Visit of dr. Eng. Adam Ujma to the Georgian University of Technology (GUT) 17-24.10.2023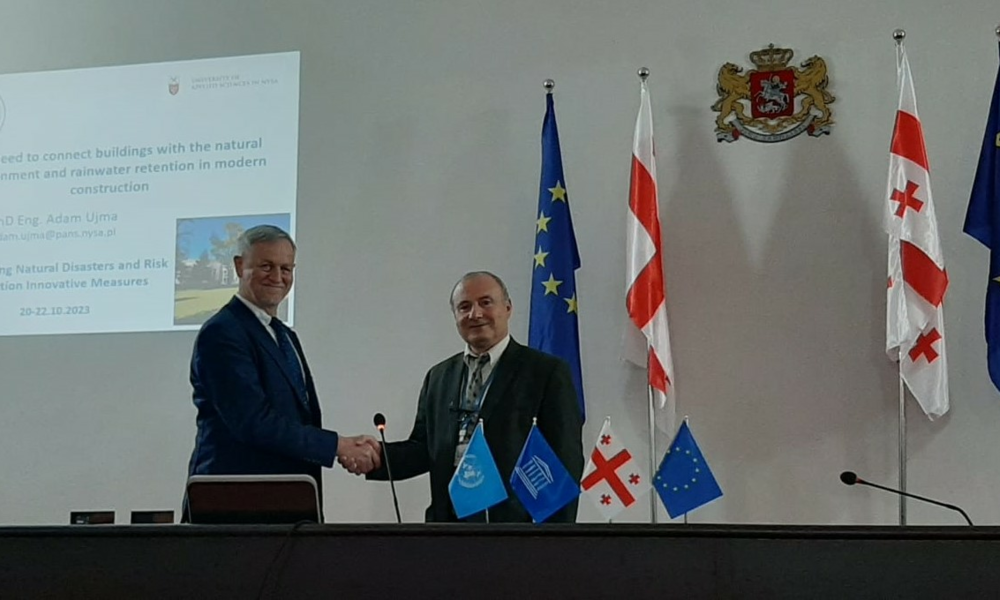 On October 17 to 24, 2023, dr inż. Adam Ujma was in Georgia, invited by the Rector of the Georgian University of Technology, Prof. David Gurgenidze, and the Director of the Tsotne Mirtskhulava Institute of Water Management of the Georgian Technical University, Prof. Givi Gavardashvili. During his stay at the Georgian University, he represented the faculty of Architecture of the State Academy of Applied Sciences (PANS) in Nysa in the sessions of the International Scientific and Practical Seminar : "European innovative technologies in environmental engineering".
On October 18, 2023, a representative of PANS in Nysa took part in the Day of the Faculty of Construction of the Georgian University of Technology in Tbilisi, and on October 20 to 22, in a conference that is one of a series of training courses and workshops funded by UNESCO, within the framework of the project "Forecasting Natural Disasters and Risk Reduction Innovative Measures", during which he presented a paper titled "The Need to Connect Buildings with the Natural Environment and Rainwater Retention in Modern Construction". Within the framework of the aforementioned conference, he participated in a study trip to technical facilities aimed at protecting mountain towns, including historic buildings and transportation infrastructure from debris flows in mountain streams. He became acquainted with a patented, innovative structure to stop debris flows on the Mletiskhevi River, thus protecting, among other things, the historic St. George Orthodox Church in the village of Kvemo Mleta.
Dr inż. Adam Ujma also held discussions with the Rector, Prof. David Gurgenidze, the Dean of the Faculty of Architecture, Prof. Nino Imnadze and the Vice-Dean, Prof. Tamar Chanturia, and the Dean of the Faculty of Construction, Prof. Zurab Gvishiani. The talks focused on the possibility of expanding cooperation in the exchange of students and academics between our universities, participation in jointly organized conferences, trainings, workshops, summer schools, and conducting joint scientific research. There was also a meeting with the staff of the International Cooperation Office and Projects and Grants Service Office of the Georgian University of Technology.