Students from Bamberg and Opava visited the University of Applied Sciences in Nysa Under Blended Intensive Programme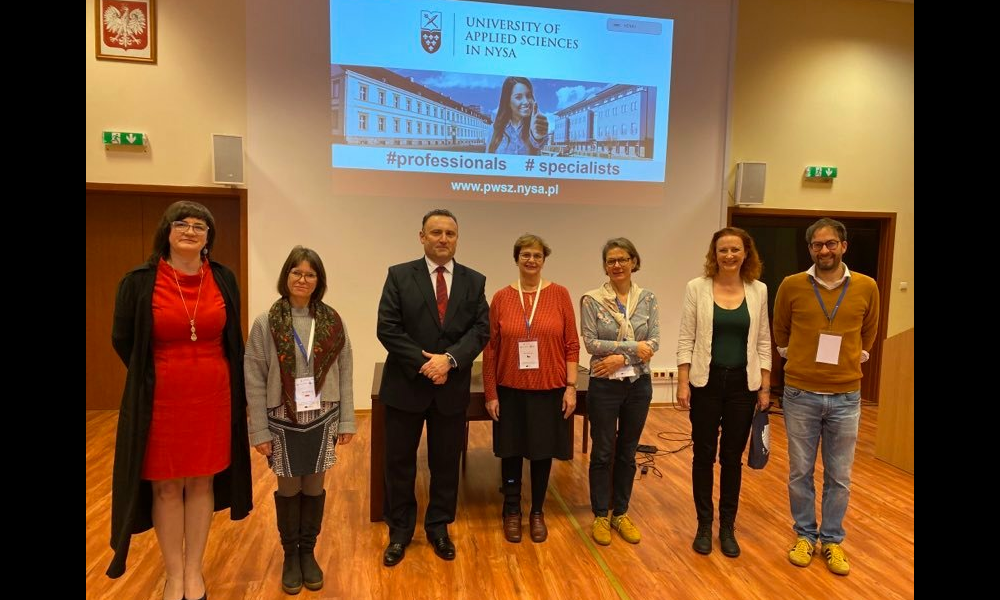 The Faculty of Neophilology of the University of Applied Sciences in Nysa on 5.12.-10.12.2022 implemented an international Blended Intensive Programme (BIP) project from the funds of the Erasmus+ programme called Language rituals and routines in language teaching, in cooperation with partner universities: University of Bamberg from Germany and Silesian University in Opava from the Czech Republic. The University of Applied Sciences in Nysa hosted students and teaching staff from the partner universities.
The project aimed to provide students and future teachers with the skills to present linguistic and extra-linguistic routines and rituals adequately, as well as to acquire the ability to use them appropriately while taking a multicultural perspective into account. The programme of the stay of guests from partner universities included numerous elements aimed at learning about the specific features of a multicultural region such as Silesia, drawing on the experience of external experts. Before the meeting took place in Nysa, the international student group participated in virtual preparations from 23.11.2022 to 3.12.2022. As part of the project, students from the Czech Republic, Germany and Poland participated in educational trips to Opole, Henryków, Wrocław and Radochów - Skowronki House.
The didactic coordinator of the project on behalf of the University of Applied Sciences in Nysa was Dr Monika Witt, Professor of Education. Administrative support and handling of the project were handled by the International Cooperation Office.