International BIP Intensive Program at PANS in Nysa in partnership with FH Mittweida in Germany and University of Dunaujvaros in Hungary "Economic Issues: Global & European Perspective"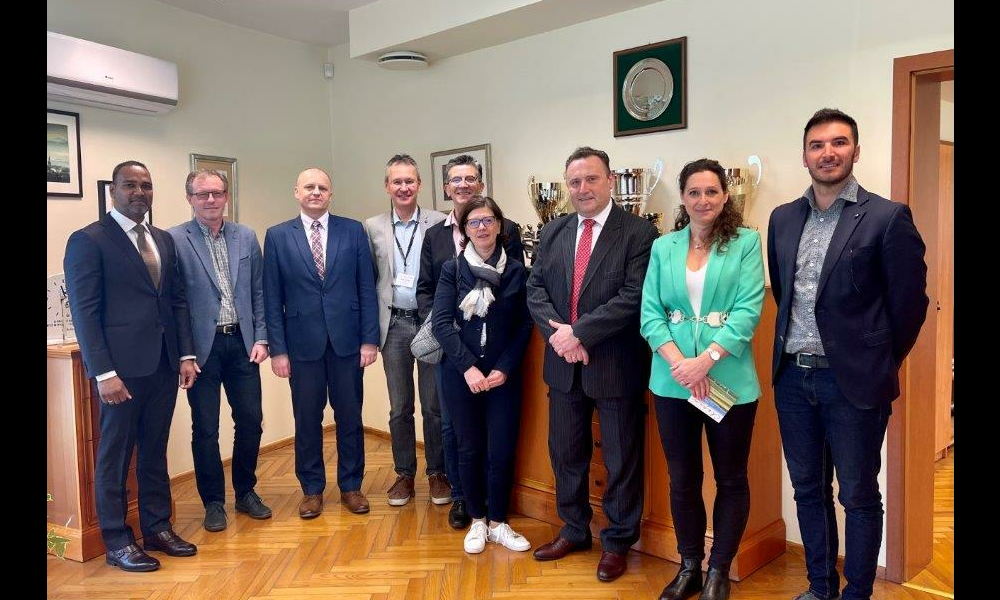 On 24-28.04, the State Academy of Applied Sciences in Nysa organized an international Blended Intensive Program project within the framework of the Erasmus+ program entitled "Economic Issues: Global & European Perspective", of which it was the Coordinator.
It included 45 students and 8 lecturers from partner universities: FH Mittweida in Germany University of Dunaujvaros, in Hungary and Savitribai Phule Pune University and Pune University MMM's Shankarrao Chavan Law College in India.
From the university's part, students participated in the project from following faculties : English Philology, Finance and Accounting, and Internal Security. The substantive coordinator was Dr. Pradeep Kumar of the Department of Philology at PANS in Nysa.
The aim of the project was to analyse the socio-economic environment, understand basic economic concepts and challenges that apply to the European and global market. During virtual meetings and workshops realized at the State Academy of Applied Sciences in Nysa, students discussed both economic issues and management strategies, they also acquired intercultural competencies while working in international teams, and received Certificates and 5 ECTS for participation in the project.
There were also lectures given by professors from all partner universities, including:
Prof. Kiss András Péter, Production and Cost Analysis
Prof. Dr. rer. nat. Thoralf Gebel Innovation Management
Dr. Pradeep Kumar, Challenges of International Marketing: European and Global studies
Prof. Dr. rer. oec. Serge Velesco, Pricing Under Various Market Condition
Prof. Dr. rer. nat. Thoralf Gebel, International strategies, prioritization of countries: methods and their applications
Prof. Kiss András Péter, Decision Making Process
Prof. Dr. rer. oec. Serge Velesco, Demand Analysis
Dr. Pradeep Kumar, Goals of Firms
Prof. Dr. Kranti Deshmukh Dr. Revati Nayak, Role of Consent in Private International Law & Contractual Obligations
The lecture was also attended by a representative of the Faculty of Social Sciences - Dr. Adam Banaszkiewicz.
An integral part of the project was a study visit to Schattdecor Company in Glucholazy, during which they given a presentation about the company and its management strategy, in addition the students had the opportunity to get an insight into the factory's production line.
There was also a tour of the center of Nysa and the university's infrastructure, including the high-tech Medical Simulation Center, the cosmetology lab and the Faculty of Technical Sciences, as well as team-building meetings such as at Nysa's Fort II. At the end of the program, the participants visited the castle in Moszna as well. Everyone returned with good memories and knowledge gained during the project. In the next academic year, it is planned to continue cooperation of the next edition of the program, this time at the University of Dunaujvaros in Hungary.