Grand Opening of the Academic Year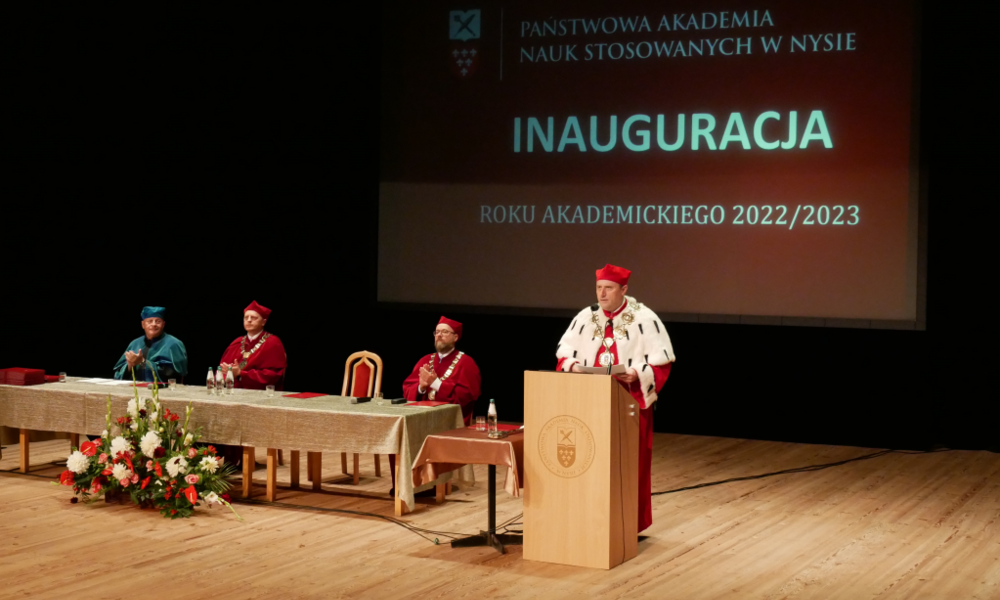 The University of Applied Sciences in Nysa has inaugurated the new academic year 2022/2023. After the introduction of the school banner and the singing of the national anthem, His Magnificence the Rector of the Nysa Academy, dr inż. Przemysław Malinowski, welcomed the invited guests, University staff and students. Among the guests were: parliamentarians, representatives of the authorities of the Opole Province, local authorities, representatives of higher education institutions in Opole, Lower Silesia and Upper Silesia, institutions, organizations and businesses.
In his speech, the Rector presented a report on activities for the past academic year. He highlighted, among other things, the peculiarities of the functioning of the Nysa University during the pandemic, cooperation with the socio-economic environment, international cooperation, ongoing projects, successes and plans for development. The 2022/23 academic year begins with more than 2,200 students in 13 undergraduate and 6 graduate majors. This year, the Nysa Academy welcomed 1000 students for the first year of study.
Invited guests and students' representatives also spoke at the Inauguration: Paweł Dymowski Chairman of the Academy's Student Government and Santjago Ulndreaj (Albania) representing foreign students.
The matriculation of the newly admitted students was conducted by the Vice-Rector for Student Affairs and Didactics dr inż. Mariusz Kołosowski. On behalf of the first-year students, the oath of office was taken by the students who achieved the best results during the recruitment process.
Matriculation certificates were received by:
Magdalena Pasiniewicz (Administration), Katarzyna Osińska (Architecture), Stanslau Mazheika (Architecture), Sara Szankowska (Internal Security), Aneta Kowalska-Koçer (Internal Security), Mateusz Hrankowski (Dietetics), Kinga Kloc (Dietetics), Amelia Wilczyńska (Finance and Accounting), Jessica Swierzy (Germanic philology), Dominik Benesz (English philology), Marek Dobruk (Computer Science), Kornelia Wróbel (Cosmetology), Natalia Grabowska (Nursing), Jolanta Maszkowska (Nursing), Wiktoria Gełgut (Psycho-physical Formation of Person), Laura Wawrzyniak (Medical Rescue), Karolina Myczewska (Engineering Management), Aleksander Hasny (Engineering Management), Kinga Hyra (Jazz and Stage Music), Justyna Sitarek (Jazz and Stage Music);
And among foreign students:
Santjago Ulndreaj (Albania, majoring in computer science), Erva Çanakçi (Turkey, majoring in Dietetics), Manuel Ángel Collado Álvarez (Spain, majoring in Architecture), Maria Lopushanska (Ukraine, majoring in English Philology), Edanur Birdal (Turkey, majoring in Engineering Management), Lindon Gashi (Kosovo, majoring in Computer Science), Masha Milatovic (Montenegro, majoring in English Philology).
The inaugural lecture, entitled A scientist's and practitioner's view of the demands of modern sports, was delivered by dr hab.. Tomasz Gabryś.
The ceremony was highlighted by a performance by the Jazz Faculty Choir under the direction of dr. Mariusz Drożdżal.
In the Nysa House of Culture, an exhibition was presented on the occasion of World Architecture Day, prepared by the Faculty of Technical Sciences and the Opole District Chamber of Architects.
October 7, 2022.
Promotion Ofice