Fulbright English Teaching Assistant from Ohio State University w Columbus in Nysa!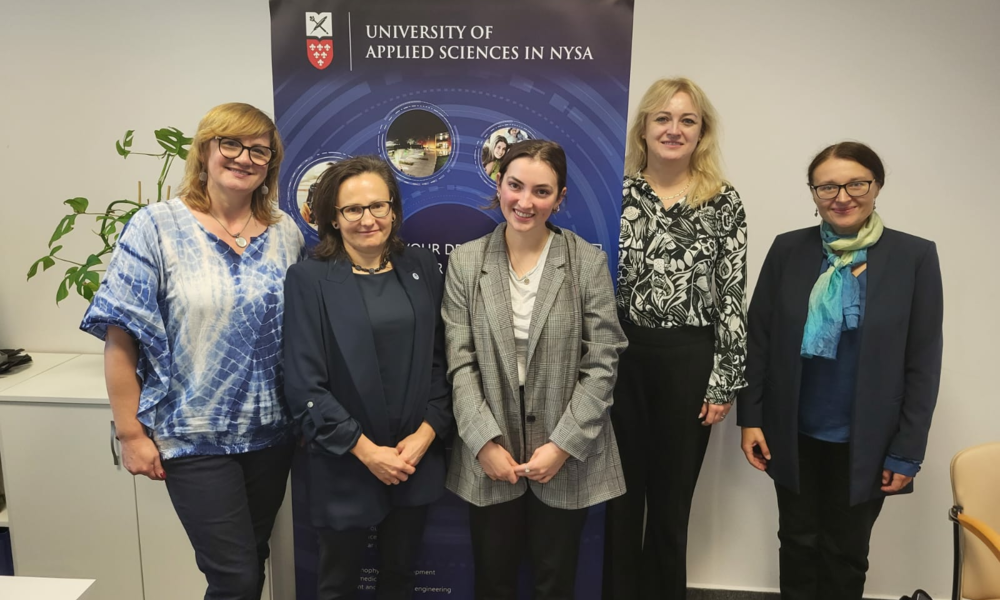 We are pleased to announce that in the 2023/2024 academic year, Ms. Alyssa Sharp, a Fulbright grantee, has joined the Faculty of Modern Languages at the State Academy of Applied Sciences in Nysa.
Alyssa Sharp is a recent graduate of Ohio State University in Columbus, where she earned a bachelor's degree in Integrated Language Arts Education and a minor in Professional Writing. From a young age, she wanted to be a teacher, which fits perfectly into the teaching specialization program implemented by PANS in Nysa. As a Fulbright English Teaching Assistant, Ms. Sharp will primarily work with students learning the English language, conducting Speaking and Writing Skills classes.
On October 2, Ms. Sharp met with Vice-President Dr. Mariusz Kołosowski, prof. at PANS, and the Dean of the Faculty of Modern Languages - Dr. hab. Alina Dittmann, who congratulated the Fulbrighter on winning the scholarship and welcomed her to the Alma Mater in Nysa. The next meeting took place at the International Cooperation Office, where Ms. Anna Opałka, M.Sc., also accompanied by Vice-Dean Dr. Małgorzata Kamińska, introduced Ms. Sharp to the offer of our University, discussing additional classes and projects implemented by PANS in Poland and abroad, thus providing other professional development opportunities during the scholarship. On Wednesday, October 4, Ms. Sharp also participated in the Adaptation Day for students coming from abroad to study in Nysa.
Throughout Ms. Sharp's stay in Poland, Sebastian Zatylny, M.A., will act as a Fulbright Buddy, helping the Fulbright Grantee settle in our country. Ms. Sharp's mentor and academic supervisor at PANS in Nysa is Dr. Agnieszka Kaczmarek, who is also a Fulbright Scholar, an awardee of the most prestigious scholarship programs in the world. As part of the preparations for welcoming the Grantee in Nysa, Mr. Zatylny and Ms. Kaczmarek participated in training sessions held in Warsaw by the Fulbright Commission. Sebastian Zatylny took part in the reception attended by the United States Ambassador to Poland, Mark Brzezinski, also a Fulbright awardee.
On behalf of the entire academic community, we wish Ms. Alyssa Sharp many wonderful and unforgettable experiences during her stay in Nysa!