English Language Competition for Secondary School Students under the auspices of the Nysa County Office and UAS in Nysa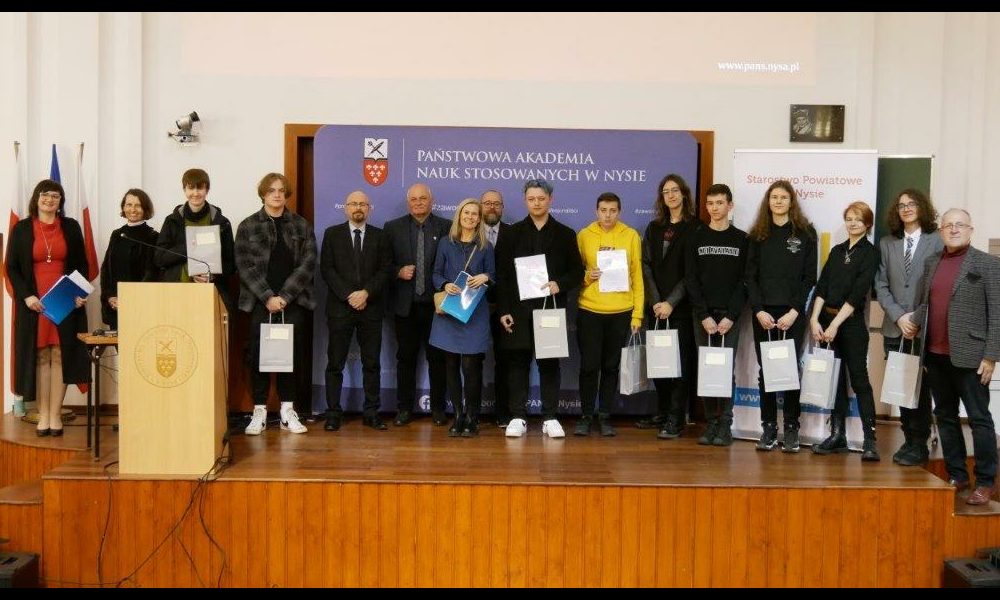 On 06.12.2022, the University of Applied Sciences in Nysa hosted an English Language Competition for Secondary School Students organised by the Foreign Language Department and the International Cooperation Office of UAS in Nysa. The event was held under the honorary auspices of Nysa County Office, and the partner was: Oxford University Press.
The aim of the competition was primarily:
to test secondary school student's ability to use English at the B2+ level of the Common European Framework of Reference for Languages (CEFR).
to develop an interest in the English language and the culture of countries in the English-speaking area;
motivating students to improve their language skills;
Thirty-seven students from 12 secondary schools entered the competition.
The competition was divided into two rounds. In the first round, students had to demonstrate their knowledge of vocabulary, grammar and the culture of English-speaking countries, as well as listening and reading comprehension. The 10 students who obtained the best results in the written part of the competition qualified for the second stage.
The competition committee selected 3 winners among them:
1st place - Kacper Grabelus
( Zespół Szkół Technicznych i Ogólnokształcących in Kędzierzyn-Koźle)
2nd place - Zuzanna Kaczmarczyk
(I Liceum Ogólnokształcące in Nysa)
3rd place - Kacper Dziadosz
(Zespół Szkół Technicznych in Nysa)

The lucky winners received various prizes: a tablet, smartwatches and wireless headphones, which were awarded by: Nysa District Head Andrzej Kruczkiewicz, Pro Vice-Chancellor for Science and Lifelong Learning Dr Tomasz Drewniak of PANS in Nysa, Associate Professor and Oxford University Press representative Estera Nowatkowska.
Prizes were funded by the Nysa County Office and PANS in Nysa.
English language skills were judged by a jury composed of mgr Mariusz Kowalski - Chairman, mgr Joanna Nowicka and mgr Patrycja Twardowska from the Foreign Language Department of PANS in Nysa.
In addition, during the competition break, the students and their tutors attended a lecture by Dr Mariusz Kamiński, Associate Professor and a workshop organised by the Oxford Reading Club, led by Ms Estera Nowatkowska - Oxford University Press' Senior ELT Consultant. We would like to thank all the competitors for their participation, the tutors for their help in preparing the students, and the partners for their cooperation, and congratulate the winners and invite them to come again next year!