Christmas Eve meeting for Erasmus+ students at the University of Applied Sciences in Nysa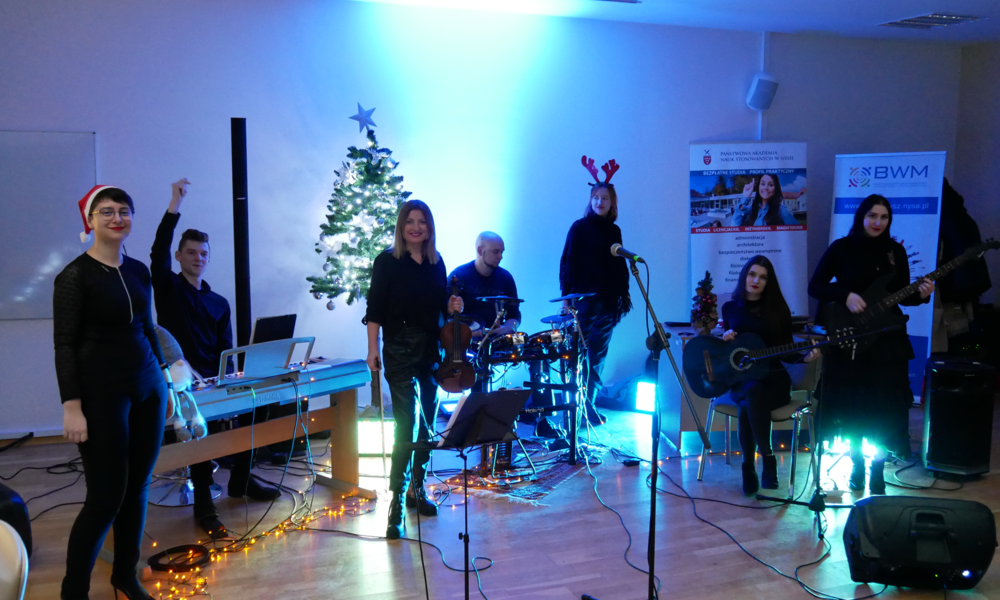 The International Cooperation Office of the University of Applied Sciences in Nysa, in cooperation with the Faculty of Neophilology, organised the annual Christmas party for students staying in Nysa as part of the ERASMUS+ programme. The Nysa university is hosting students from Albania, Montenegro, Spain, Kosovo, Turkey and Ukraine this semester. They attend classes in architecture, dietetics, computer science, English philology as well as management and production engineering.
During the Christmas meeting, Polish students from the Faculty of Neophilology introduced the guests to the traditions and customs of Christmas Eve and Christmas in Poland. It also included the tasting of traditional Christmas Eve dishes, as well as a wafer, at which, according to custom, students exchanged good words and wishes.
A beautiful accompaniment was provided by the LINGUA MUSICA musical ensemble, consisting of English Philology students under the guidance of Dr Alina Bryll. The members of the music group performed world-famous Christmas songs in English, such as "Silent Night". The participants were very eager to engage in joint carol singing, and at the end of the meeting they received sweet gifts and an invitation to a Christmas Concert by students and faculty of the Jazz Department.